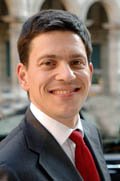 Miliband to replace Prescott?
The Sunday Times reports to day that South Shields MP David Miliband is being lined up to take the post of Deputy Prime Minister as Labour backbenchers sharpen their knives, questioning if it would be wise to leave the beleaguered "two shags" in charge of the country when Blair takes his holiday.
The newspaper reports that Downing Street advisors favour this plan which would leave Prescott as Deputy Leader of the Labour Party, thus avoiding party infighting and a ballot this autumn. The post of Deputy Prime Minister, a job within Blair's gift, would suit the rather less than exciting, but intellectual Miliband.
His loyalty to Blair is unquestionable and to date has never ever voted against the government in a division in the House of Commons (perhaps he has no conscience to speak of.) Being "sqeaky clean" is one thing, but it hardly makes you a man of the people.
Meanwhile "Jabba the hut" is reported to be fuming mad at those briefing against him, a Downing Street source said;
"He thinks that people around Tony want to kill him off, but Tony won't sack him because he knows John could divulge all the secret discussions with Gordon. He will go at a time of his own choosing"
Bloggers have been speculating for some time what the reasons are that prevent Blair fron removing Prescott from the lavish trappings of office, it now seems obvious that the DPM has too many stories to sell.

Link

The Sunday Times

_________________________________________________________________