Thursday, May 18, 2006
Cabinet seat for Donaldson
Top table for former Tory


One of the tasks completed this week at the annual meeting of the Borough Council was the reorganising of the "Cabinet" portfolios following the stepping down of Steve Forster and Ron Reynolds.

Their places have been filled by Cllr. Tom Hanson and Cllr. Alex Donaldson. The ex-police officer Donaldson was also a member of South Shields Conservative Association during the heady days of Thatcherism, a remarkable full about turn for the sharp witted Scotsman!


_________________________________________________________________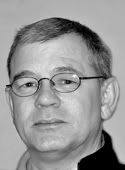 Curly
Born in 1956
Sanddancer
Sunderland fan
Male
Retailer
Former Borough Councillor
View my Profile


Email Curly

south-shields AT
blueyonder DOT co DOT uk

Got a story?
Got a tip off?
Got some scandal?
Let me know!

07941386870


Search this site


How do I make a comment on this blog?

Curly's Corner Shop website
Curly's Photoshop
My Message Board
Shields photo gallery
RTG Message Board
Sunderland AFC Blog
Site Feed
Blogroll Me!
December 2004
January 2005
February 2005
March 2005
April 2005
May 2005
June 2005
July 2005
August 2005
September 2005
October 2005
November 2005
December 2005
January 2006
February 2006
March 2006
April 2006
May 2006
June 2006
July 2006
August 2006
September 2006
October 2006
November 2006
December 2006
January 2007